May 11, 2012 6:55 pm
/
Posted in Events
Burke's Boot Camp is having its Summer  Charity Boot Camp on Saturday, June 16th ! Located at McKellar Park, next to Wavell Avenue, by the tennis courts, from 12 noon to 1pm. To participate, click here to fill out the sign up sheet.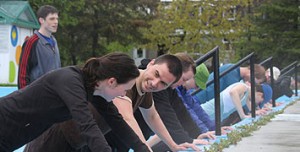 You may have fond memories of getting your butt kicked in the pouring rain during the Spring Charitable Bootcamp, or being plastered with a water balloon at the Summer Charitable Bootcamp, or you may be new to my bootcamps altogether.
Either way, you are welcome to come out and support a great cause while getting in shape and having fun while you do it.  Be prepared for another butt-blasting, ab-crushing workout in the open air, rain or shine.  Bring your own water bottle, yoga mat and hand wraps if you have them.  As usual, all proceeds will be donated to the Youth Services Bureau, and tax receipts will be available. 
In past charitable boot camps we have been able to raise over $450.  We are hoping to top that this time, so I need your help to get the message out. Please share this on your facebook or twitter using the links provided.
I can't wait to see you there!
Tags:
Burke Cleland
,
Ottawa Boot Camp
Category: Events
Posted by Burke