June 4, 2011 5:31 pm
/
Posted in Testimonial Category: Boot Camp Testimonials.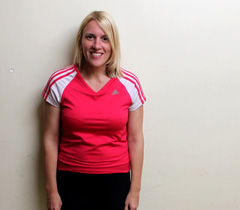 Burke adds a variety of different exercises to each class. He is methodological, knowledgeable and smart. Each class is fun and a little harder each time.   I have been doing bootcamp since July and have lost over twenty pounds. I have done weights, yoga, pilates, and other cardio vascular activities in the past but none have given me such great results. The combination of all these activities and a great nutrition plan, which Burke reinforces, made me lose weight and increase endurance. As a result, I have way more energy in my every day existence and a better attitude to life. Burke's holistic approach to health motivates me to maintain my weight loss and pursue other goals such as adding muscle mass and decreasing fat percentage. I also have to say that adding kickboxing to the mix is a great motivator as well. I feel confident and stronger all around.
-Nadine
Testimonial Category: Boot Camp Testimonials.
Posted by Burke