March 30, 2014 12:52 am
/
Posted in Blog, Exercise
Most people assume that their personal trainer doesn't need to put in as much effort to stay in shape, and that he or she doesn't "get" people who struggle with their weight. That's not always the case… at least it wasn't for me.
As a teenager I struggled with my weight quite a bit – mostly due to nutrition. As with many people, I had a real appetite for sugary and starchy foods; a nice after school snack involved a glass of milk and 2 rows of cookies! It took me years to develop the proper nutrition and exercise habits, as well as the discipline to become not only a personal trainer, but also a competitive amateur kickboxer.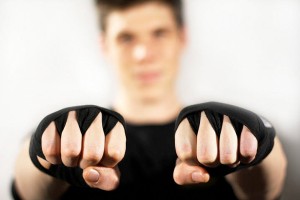 Does a Personal Trainer Need Help to Stay in Shape?
A client once told me that his son was considering hiring a personal trainer, but thought it might be too expensive. He said to me: "With your training, you wouldn't pay for a personal trainer, right?"
I had to smile.
The fact of the matter is that I'm able to stay in shape because I call on the help of multiple mentors who guide me on my path.  This is especially true in three activities: kickboxing, gymnastics, and tai chi.
Kickboxing
For almost seven years I've studied under "The Iceman," Jean-Yves Theriault. For those of you who are not familiar with him, Jean-Yves is Canada's most accomplished kickboxer, having won multiple world championships in his 23 year fighting career. To this day, "The Iceman" still trains young kickboxers, including myself.
Kickboxing helps me work cardio, agility, and all my muscle groups. It works coordination for my entire body and forces me to stay committed to proper form and technique. If you've train with me, you probably already know the importance of kickboxing to my training routine.
Tai Chi
For the last year and a half I've worked closely with Joe at the Taoist Tai ChiTM Centre on Carling. Tai Chi is a practice that encourages real discipline and long term commitment.
Practicing Tai Chi well means striving for accuracy and perfect form in every movement. All of the movements activate my entire body at once. As a result, with Joe's help, I'm improving my spirit as well as my internal strength.
Gymnastics
I started going to gymnastics with my daughter last summer and I will be going back again this year. As a personal trainer, I like to strive for a higher athleticism, and gymnastics is a great way to do that. It's also great to have an exercise activity that I can do with my daughter, as I want her to grow up loving activity as much as I do now.
Other Personal Trainers
I've also taken on other personal trainers at various times in my life. I'm always looking for guidance from experts in different fields to help me learn more and, as a result, be a better teacher to my clients.
I am a personal trainer because I see value in the work. I've seen so many of my clients take a similar fitness journey as I have, improving health and nutrition over a long period of time. I'm grateful for the help I've received along the way and I'm confident that they are too.
If you would like to find out more about how I stay in shape, just send me a quick message.
Read the other articles in this series:
1 – Part 1: My Personal Training and Fitness Philosophy
2 – Part 3: My Opinion on Supplements
3 – Part 4: What Certifications do I Have?
4 – Part 5: Are My Personal Training Clients Long Term or Short Term?
5 – Part 6: How Many Times a Week Do I Train Clients?
6 – Part 7: Why Did I Become a Personal Trainer?
Tags:
diet
,
exercise
,
fitness
,
Ottawa Personal Trainer
,
questions to ask your personal trainer
Posted by Burke